Dosher receives large grant, launches community health initiative

Contact: James M. Goss
                                                                                                            Phone: (910) 457-3900
For release:  January 10, 2017
Dosher receives large grant, launches community health initiative
SOUTHPORT—Dosher Memorial Hospital has received the largest grant in its 86-year history: $450,000 from The Duke Endowment, Charlotte. Hospital officials said the funds will be used to launch the Brunswick County Community Wellness Coalition to improve the health and wellness of area residents.
Officials with Population Health Improvement Partners, Morrisville, which is helping Dosher implement the program at the direction of the endowment, said Dosher is the first critical access hospital to receive such a grant. This is the second year of grant awards to health organizations in the Carolinas through the endowment.
"This is an exceptional opportunity for Dosher to partner with the community to promote health and wellness to a large segment of the population," Dosher Hospital Board Chair Sherri Marshall said.
At its monthly meeting last evening, the Board elected trustee Dr. Scott Starks, a retired orthopedic surgeon, to chair the Community Wellness Coalition. "Dr. Starks has three decades of experience working on community health programs. He was the obvious choice to represent our Board on this exciting new initiative," Marshall added.
"During my 20 years of evolution into full-time residency on Bald Head Island, I have continued to observe people and practices that warrant education and programs for various health conditions. This program will accomplish just that," Dr. Starks said.
Brunswick County Health Department, New Hope Clinic, and the YMCA of Wilmington were part of Dosher's application for the grant from the endowment. These three organizations will be represented on the coalition.
Hospital President & CEO Tom Siemers said the coalition will be adding other community, health and business leaders. "The first charge will be to recruit a coordinator to develop, organize and administer the program, "Siemers said. "The singular goal of the coalition is to improve the health of our community."
(More)
Dosher receives large grant, launches community health initiative
Page 2
Siemers also thanked Dosher Foundation President Lynda Stanley for shepherding the grant application process.
Dosher will spend $150,000 of the grant funds per year for three years to implement the community health improvement program.
An announcement on further details is planned within a few weeks. For more information, call the Dosher Foundation at 910-457-3850.
#  #  #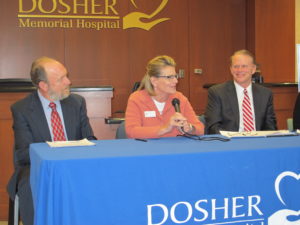 Donna Albertone, senior director, Population Health Improvement Partners, announces Dosher Memorial Hospital as the first critical access hospital in N.C. to receive a $450,000 grant from The Duke Endowment. She is flanked by Dr. Scott Starks, Dosher Hospital Board trustee, and chairman, Brunswick County Community Wellness Coalition, and Tom Siemers, president & CEO, Dosher Hospital.