Abraham Lincoln attends next Civil War Round Table
BRUNSWICK CIVIL WAR ROUND TABLE
 NEWS RELEASE
 Contact: Chuck Roedema
Tel: (910) 253-9149
Cell: (609) 618-9273
Email: cer333@gmail.com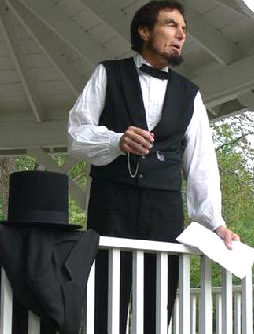 Abraham Lincoln attends next Civil War Round Table  
James Hayney will be the guest presenter at the Tuesday, December 6th Brunswick Civil War Round Table meeting. James has built a career portraying the Great Emancipator. He certainly looks the part. His body is long and lean; he stands well over 6 feet tall and sports the trademark beard worn by the 16th president. He is a veteran actor performing over 100 stage plays, acting in television films and commercials, and is a life member of the National Association of Abraham Lincoln Presenters. His topic is entitled, "Myths and Legends of Abraham Lincoln."
In 2002, the National Civil War Museum contacted him about playing the role of Lincoln for one of its fundraisers. He accepted and began to research his new role, as many a good actor would. He soon found that Lincoln fascinated him which he began by building his own Lincoln library, including purchasing the complete collection of Lincoln's writings and studied them extensively. He discovered that the more he learned about Lincoln, the more he admired him.
James turned his love for Lincoln into a career in 2005. He now spends a lot of time at Gettysburg, performing or giving presentations at the Battle Theater, as well as speaking to many corporate and school groups, and other Civil War round tables and organizations.
In 2009, the National Civil War Museum again contacted him about doing a video about Lincoln entitled, "Meet Mr. Lincoln" which the museum displays on a daily basis. The video can also be seen on its online website where his portrayal of Lincoln focuses on answering questions about the Civil War, slavery and Lincoln's presidency.
Being a Lincoln presenter has given him a wide range of opportunities, including performing at the National Portrait Gallery in Washington, D.C. on the day of President Obama's first inauguration. He received the key to the town of Hummelstown and, earlier this year, was grand marshal for the Pennsylvania Farm Show. He even threw out the first pitch at a Harrisburg Senator's baseball game.
The Tuesday, December 6th meeting will be held at Hatch Auditorium on Caswell Beach. Everyone is invited to attend. Registration and refreshments begin at 6:30PM; the program begins at 7:00PM. The guest admission fee is $10, and can be applied toward the $25 annual membership dues. The Round Table continues to grow with each monthly meeting, and currently has almost 1,100 members, making it the largest Civil War Round Table in the country.
For more information about the Round Table or the upcoming meeting, contact president Mike Powell at (910) 278-3545, or email to mpowell6@ec.rr.com. The organization's website is Brunswickcivilwarroundtable.com. You are also invited to visit their new Facebook page for interesting Round Table developments and announcements.
###